Cobble Hill Cinemas
265 Court Street
Brooklyn, NY 11231 United States
Movie info (718) 596-9113
Frank Miller's Sin City: A Dame to Kill For 3D
(R)
Rated for strong brutal stylized violence throughout, sexual content, nudity, and brief drug use

Rosario Dawson, Jessica Alba
- 1 hr. 42 mins.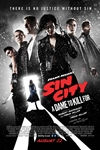 The town's most hard-boiled citizens cross paths with some of its more reviled inhabitants.
Official Site
Trailer
---
The Giver
(PG-13)
Jeff Bridges, Meryl Streep
- 1 hr. 31 mins.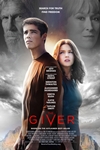 The haunting story of THE GIVER centers on Jonas, a young man who lives in a seemingly ideal, if colorless, world of conformity and contentment. Yet as he begins to spend time with The Giver, who is the sole keeper of all the community's memories, Jonas quickly begins to discover the dark and deadly truths of his community's secret past. With this newfound power of knowledge, he realizes that the stakes are higher than imagined - a matter of life and death for himself and those he loves most. At extreme odds, Jonas knows that he must escape their world to protect them all - a challenge that no one has ever succeeded at before.
Official Site
Trailer
---
The Hundred-Foot Journey
(PG)
Rated for thematic elements, some violence, language and brief sensuality

Helen Mirren, Manish Dayal
- 1 hr. 57 mins.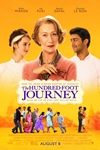 Hassan Kadam is a culinary ingénue with the gastronomic equivalent of perfect pitch. When Hassan and his family, led by Papa, move to a quaint village in the South of France with the grand plan of opening an Indian restaurant in the picturesque countryside, they are undeterred by the fact that only 100 feet opposite stands a Michelin starred classical French eatery. However upon encountering the icy proprietress, Madame Mallory, the Kadam family realise they may have bitten off more than they can chew. Outraged by the new arrivals, Madame Mallory is determined to have their business shut down. As cultures clash and food flies, an all-out war escalates between the two establishments -- until, that is, Hassan's passion and talent for French cuisine begin to enchant Madame Mallory and even she can't deny this young chef could have what it takes to garner even more acclaim for her beloved restaurant. This, along with his new-found friendship with her beautiful sous chef Marguerite, starts to weave a magic between the two cultures and, despite their different tastes, they discover an unlikely recipe for success that surprises them all.
Official Site
Trailer
---
Calvary
(R)
Rated for sexual references, language, brief strong violence and some drug use

Brendan Gleeson, Chris O'Dowd
- 1 hr. 45 mins.
Father James is a good priest who is faced with sinister and troubling circumstances brought about by a mysterious member of his parish. Although he continues to comfort his own fragile daughter and reach out to help members of his church with their various scurrilous moral- and often- comic problems, he feels sinister and troubling forces closing in, and begins to wonder if he will have the courage to face his own personal Calvary.
Official Site
Trailer
---
Magic in the Moonlight
(PG-13)
Rated for a brief suggestive comment, and smoking throughout

Emma Stone, Colin Firth
- 1 hr. 38 mins.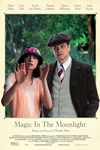 Chinese conjuror Wei Ling Soo is the most celebrated magician of his age, but few know that he is the stage persona of Stanley Crawford , a grouchy and arrogant Englishman with a sky-high opinion of himself and an aversion to phony spiritualists' claims that they can perform real magic. Persuaded by his life-long friend, Howard Burkan, Stanley goes on a mission to the Côte d'Azur mansion of the Catledge family: mother Grace, son Brice, and daughter Caroline. He presents himself as a businessman named Stanley Taplinger in order to debunk the alluring young clairvoyant Sophie Baker who is staying there with her mother. Sophie arrived at the Catledge villa at the invitation of Grace, who is convinced that Sophie can help her contact her late husband, and once there, attracted the attention of Brice, who has fallen for her head over heels. From his very first meeting with Sophie, Stanley dismisses her as an insignificant pip-squeak who he can unmask in no time, scoffing at the family's gullibility. To his great surprise and discomfort, however, Sophie accomplishes numerous feats of mind-reading and other supernatural deeds that defy all rational explanation, leaving him dumbfounded. Before long, Stanley confesses to his beloved Aunt Vanessa that he has begun to wonder whether Sophie's powers could actually be real. If they were to be true, Stanley realizes that anything might be possible, even good, and his entire belief system would come crashing down. What follows is a series of events that are magical in every sense of the word and send the characters reeling. In the end, the biggest trick this film plays is the one that fools us all.
Official Site
Trailer
---
A Most Wanted Man
(R)
Rated for language

Rachel McAdams, Robin Wright
- 2 hr. 1 mins.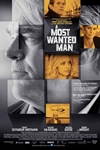 Present day Hamburg: a tortured and near-dead half-Chechen, half-Russian man on the run arrives in the city's Islamic community desperate for help and looking to recover his late Russian father's ill-gotten fortune. Nothing about him seems to add up; is he a victim, thief or, worse still, an extremist intent on destruction? Drawn into this web of intrigue is a British banker and a young female lawyer, determined to defend the defenseless. All the while, they are being watched by the brilliant, roguish chief of a covert German spy unit, who fights to put the pieces together as the clock ticks.
Official Site
Trailer
---
Boyhood
(R)
Rated for language including sexual references, and for teen drug and alcohol use

Patricia Arquette, Ethan Hawke
- 2 hr. 40 mins.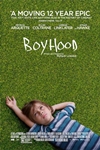 Filmed over 12 years with the same cast, this film is a groundbreaking story of growing up as seen through the eyes of a child named Mason, who literally grows up on screen before our eyes. This drama charts the rocky terrain of childhood like no other film has before. Snapshots of adolescence from road trips and family dinners to birthdays and graduations and all the moments in between become transcendent, set to a soundtrack spanning the years from Coldplay's Yellow to Arcade Fire's Deep Blue. The film is both a nostalgic time capsule of the recent past and an ode to growing up and parenting. It's impossible not to watch Mason and his family without thinking about our own journey.
Official Site
Trailer
---