Cobble Hill Cinemas
265 Court Street
Brooklyn, NY 11231 United States
Movie info (718) 596-9113
Sherlock Gnomes
(PG)
Rated avengers

James McAvoy, Emily Blunt
- 1 hr. 26 mins.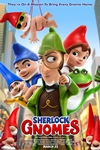 When Gnomeo and Juliet first arrive in the city with their friends and family, their biggest concern is getting their new garden ready for spring. However, they soon discover that someone is kidnapping garden gnomes all over London. When Gnomeo and Juliet return home to find that everyone in their garden is missing there's only one gnome to call SHERLOCK GNOMES. The famous detective and sworn protector of London's garden gnomes arrives with his sidekick Watson to investigate the case. The mystery will lead our gnomes on a rollicking adventure where they will meet all new ornaments and explore an undiscovered side of the city.
Official Site
Trailer
---
Love, Simon
(PG-13)
Rated for thematic elements, sexual references, language and teen partying

Nick Robinson, Katherine Langford
- 1 hr. 50 mins.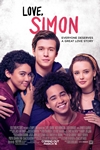 Everyone deserves a great love story. But for seventeen-year old Simon Spier it's a little more complicated: he's yet to tell his family or friends he's gay and he doesn't actually know the identity of the anonymous classmate he's fallen for online. Resolving both issues proves hilarious, terrifying and life-changing. Directed by Greg Berlanti (Riverdale, The Flash, Supergirl), written by Isaac Aptaker & Elizabeth Berger (This is Us), and based on Becky Albertalli's acclaimed novel, LOVE, SIMON is a funny and heartfelt coming-of-age story about the thrilling ride of finding yourself and falling in love.
Official Site
Trailer
---
Tomb Raider
(PG-13)
Rated for sequences of violence and action, and for some language

Alicia Vikander, Dominic West
- 1 hr. 58 mins.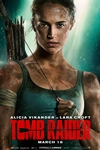 Lara Croft is the fiercely independent daughter of an eccentric adventurer who vanished when she was scarcely a teen. Now a young woman of 21 without any real focus or purpose, Lara navigates the chaotic streets of trendy East London as a bike courier. Determined to forge her own path, she refuses to take the reins of her father's global empire just as staunchly as she rejects the idea that he's truly gone. Going explicitly against his final wishes, she leaves everything behind in search of her dad's last-known destination: a fabled tomb on a mythical island that might be somewhere off the coast of Japan. Suddenly, the stakes couldn't be higher for Lara must learn to push herself beyond her limits as she journeys into the unknown.
Official Site
Trailer
---
A Wrinkle in Time
(PG)
Rated for thematic elements and some peril

Oprah Winfrey, Reese Witherspoon
- 1 hr. 49 mins.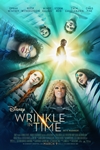 Meg Murry is a typical middle school student struggling with issues of self-worth who just wants to fit in. The daughter of two world-renowned physicists, she is intelligent and uniquely gifted, as is Meg's younger brother, Charles Wallace, but she has yet to realize it for herself. Complicating matters is the mysterious disappearance of Mr. Murry, which has left Meg devastated and her mother broken-hearted. Charles Wallace introduces Meg and her fellow classmate Calvin to three celestial beings (Mrs. Which, Mrs. Whatsit and Mrs. Who) who have journeyed to Earth to help search for their father, and together they embark on their formidable quest. Travelling via a wrinkling of time and space known as tessering, they are transported to worlds beyond their imagination where they must confront a powerful evil force. To make it back home to Earth, Meg must face the darkness within herself in order to harness the strength necessary to defeat the darkness rapidly enveloping the Universe.
Official Site
Trailer
---
Black Panther
(PG-13)
Rated for prolonged sequences of action violence, and a brief rude gesture

Chadwick Boseman, Lupita Nyong'o
- 2 hr. 14 mins.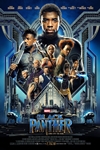 "Black Panther" follows T'Challa who, after the events of "Captain America: Civil War," returns home to the isolated, technologically advanced African nation of Wakanda to take his place as King. However, when an old enemy reappears on the radar, T'Challa's mettle as King and Black Panther is tested when he is drawn into a conflict that puts the entire fate of Wakanda and the world at risk.
Official Site
Trailer
---