Mary Poppins Returns
(PG)
12/19/2018
Emily Blunt, Lin-Manuel Miranda
- 2 hr. 10 mins.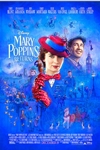 The film is set in 1930s depression-era London (the time period of the original novels) and is drawn from the wealth of material in PL Travers' additional seven books. In the story, Michael (Whishaw) and Jane (Mortimer) are now grown up, with Michael, his three children and their housekeeper, Ellen (Walters), living on Cherry Tree Lane. After Michael suffers a personal loss, the enigmatic nanny Mary Poppins (Blunt) re-enters the lives of the Banks family, and, along with the optimistic street lamplighter Jack (Miranda), uses her unique magical skills to help the family rediscover the joy and wonder missing in their lives. Mary Poppins also introduces the children to a new assortment of colorful and whimsical characters, including her eccentric cousin, Topsy (Streep).
Official Site
Trailer
---
Second Act
(PG-13)
12/21/2018
Jennifer Lopez, Leah Remini
- 1 hr. 44 mins.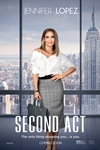 Second Act is a comedy in the vein of Working Girl and Maid In Manhattan. Jennifer Lopez stars as Maya, a 40-year-old woman struggling with frustrations from unfulfilled dreams. Until, that is, she gets the chance to prove to Madison Avenue that street smarts are as valuable as book smarts, and that it is never too late for a Second Act.
Official Site
Trailer
---
Vice
(R)
12/24/2018
Christian Bale, Amy Adams
- 2 hr. 12 mins.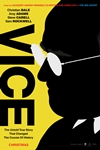 VICE explores the epic story about how a bureaucratic Washington insider quietly became the most powerful man in the world as Vice-President to George W. Bush, reshaping the country and the globe in ways that we still feel today.
Official Site
Trailer
---
On The Basis Of Sex
(PG-13)
1/4/2019
Felicity Jones, Armie Hammer
- 1 hr. 54 mins.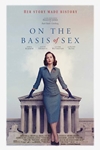 The film tells an inspiring and spirited true story that follows young lawyer Ruth Bader Ginsburg as she teams with her husband Marty to bring a groundbreaking case before the Supreme Court and overturn a century of gender discrimination. The feature will premiere in 2018 in line with Justice Ginsburg's 25th anniversary on the Supreme Court.
Official Site
Trailer
---
The Upside
(PG-13)
1/11/2019
Bryan Cranston, Kevin Hart
- 1 hr. 58 mins.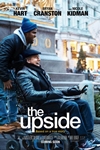 Inspired by a true story, The Upside is a heartfelt comedy about a recently paroled ex-convict (Kevin Hart) who strikes up an unusual and unlikely friendship with a paralyzed billionaire (Bryan Cranston).
Official Site
Trailer
---
Glass
(PG-13)
1/18/2019
Bruce Willis, Samuel L. Jackson
-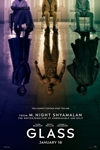 From Unbreakable, Bruce Willis returns as David Dunn as does Samuel L. Jackson as Elijah Price, known also by his pseudonym Mr. Glass. Joining from Split are James McAvoy, reprising his role as Kevin Wendell Crumb and the multiple identities who reside within, and Anya Taylor-Joy as Casey Cooke, the only captive to survive an encounter with The Beast. Following the conclusion of Split, Glass finds Dunn pursuing Crumb's superhuman figure of The Beast in a series of escalating encounters, while the shadowy presence of Price emerges as an orchestrator who holds secrets critical to both men.
Official Site
Trailer
---
The LEGO Movie 2: The Second Part
()
2/8/2019
Chris Pratt, Elizabeth Banks
-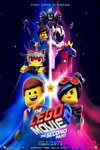 It's been five years since everything was awesome and the citizens are facing a huge new threat: LEGO DUPLOŽ invaders from outer space, wrecking everything faster than they can rebuild.
The battle to defeat them and restore harmony to the LEGO universe will take Emmet, Lucy, Batman and their friends to faraway, unexplored worlds, including a strange galaxy where everything is a musical. It will test their courage, creativity and Master Building skills, and reveal just how special they really are.
Official Site
Trailer
---
Alita: Battle Angel
()
2/14/2019
Rosa Salazar, Christoph Waltz
- 1 hr. 56 mins.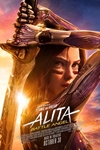 From visionary filmmakers James Cameron (AVATAR) and Robert Rodriguez (SIN CITY), comes ALITA: BATTLE ANGEL, an epic adventure of hope and empowerment. When Alita (Rosa Salazar) awakens with no memory of who she is in a future world she does not recognize, she is taken in by Ido (Christoph Waltz), a compassionate doctor who realizes that somewhere in this abandoned cyborg shell is the heart and soul of a young woman with an extraordinary past. As Alita learns to navigate her new life and the treacherous streets of Iron City, Ido tries to shield her from her mysterious history while her street-smart new friend Hugo (Keean Johnson) offers instead to help trigger her memories. But it is only when the deadly and corrupt forces that run the city come after Alita that she discovers a clue to her past - she has unique fighting abilities that those in power will stop at nothing to control. If she can stay out of their grasp, she could be the key to saving her friends, her family and the world she's grown to love.
Official Site
Trailer
---
How to Train Your Dragon: The Hidden World
(PG)
2/22/2019
Jay Baruchel, America Ferrera
-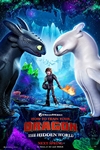 As Hiccup fulfills his dream of creating a peaceful dragon utopia, Toothless' discovery of an untamed, elusive mate draws the Night Fury away. When danger mounts at home and Hiccup's reign as village chief is tested, both dragon and rider must make impossible decisions to save their kind.
Official Site
Trailer
---
Captain Marvel
(NR)
3/8/2019
Brie Larson, Samuel L. Jackson
-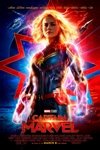 The story follows Carol Danvers as she becomes one of the universe's most powerful heroes when Earth is caught in the middle of a galactic war between two alien races. Set in the 1990s, Captain Marvel is an all-new adventure from a previously unseen period in the history of the Marvel Cinematic Universe.
Official Site
Trailer
---
Wonder Park
(PG)
3/15/2019
Jennifer Garner, Matthew Broderick
-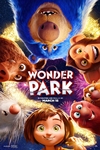 WONDER PARK tells the story of a magnificent amusement park where the imagination of a wildly creative girl named June comes alive.
Official Site
Trailer
---
Dumbo
()
3/29/2019
Colin Farrell, Michael Keaton
- 2 hr. 10 mins.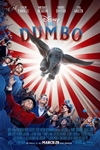 Official Site
Trailer
---