Godzilla: King of the Monsters
(PG-13)
5/30/2019
Kyle Chandler, Vera Farmiga
- 2 hr. 12 mins.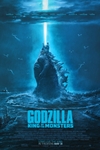 The new story follows the heroic efforts of the crypto-zoological agency Monarch as its members face off against a battery of god-sized monsters, including the mighty Godzilla, who collides with Mothra, Rodan, and his ultimate nemesis, the three-headed King Ghidorah. When these ancient super-species - thought to be mere myths - rise again, they all vie for supremacy, leaving humanity's very existence hanging in the balance.
Official Site
Trailer
---
Rocketman
(R)
5/30/2019
Taron Egerton, Jamie Bell
- 2 hr. 1 mins.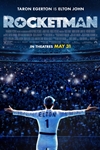 ROCKETMAN is an epic musical fantasy about the incredible human story of Elton John's breakthrough years. The film follows the fantastical journey of transformation from shy piano prodigy Reginald Dwight into international superstar Elton John. This inspirational story - set to Elton John's most beloved songs and performed by star Taron Egerton - tells the universally relatable story of how a small-town boy became one of the most iconic figures in pop culture. ROCKETMAN also stars Jamie Bell as Elton's longtime lyricist and writing partner Bernie Taupin, Richard Madden as Elton's first manager, John Reid, and Bryce Dallas Howard as Elton's mother Sheila Farebrother.
Official Site
Trailer
---
Dark Phoenix
(PG-13)
6/7/2019
James McAvoy, Michael Fassbender
- 1 hr. 53 mins.
This is the story of one of the X-Men's most beloved characters, Jean Grey, as she evolves into the iconic DARK PHOENIX. During a life-threatening rescue mission in space, Jean is hit by a cosmic force that transforms her into one of the most powerful mutants of all. Wrestling with this increasingly unstable power as well as her own personal demons, Jean spirals out of control, tearing the X-Men family apart and threatening to destroy the very fabric of our planet. The film is the most intense and emotional X-Men movie ever made. It is the culmination of 20 years of X-Men movies, as the family of mutants that we've come to know and love must face their most devastating enemy yet -- one of their own.
Official Site
Trailer
---
The Secret Life of Pets 2
(PG)
6/7/2019
Kevin Hart, Jenny Slate
- 1 hr. 26 mins.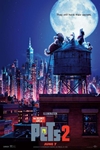 Terrier Max (Patton Oswalt) is coping with some major life changes. His owner (Ellie Kemper) is now married and has a toddler, Liam. Max is so worried about protecting the boy that he develops a nervous tic. On a family trip to a farm, Max and mutt Duke (Eric Stonestreet) encounter canine-intolerant cows, hostile foxes and a terrifying turkey, all of which only elevates Max's anxiety. Luckily, Max gets some guidance from veteran farm dog Rooster (Harrison Ford, making his animated-film debut), who pushes Max to ditch his neuroses, find his inner alpha, and give Liam a little more freedom.
Meanwhile, while her owner is away, plucky Pomeranian Gidget (Jenny Slate) tries to rescue Max's favorite toy from a cat-packed apartment with a little help from her feline friend, Chloe (Lake Bell), who has discovered the joys of catnip.
And crazy-but-cute bunny Snowball (Kevin Hart) gets delusions of grandeur that he's an actual superhero after his owner Molly starts dressing him in superhero pajamas. But when Daisy (Tiffany Haddish), a fearless Shih Tzu, shows up to ask for Snowball's help on a dangerous mission, he'll have to summon the courage to become the hero he's only been pretending to be.
Can Max, Snowball, Gidget and the rest of the gang find the inner courage to face their biggest fears?
Official Site
Trailer
---
The Dead Don't Die
(R)
6/14/2019
Bill Murray, Adam Driver
- 1 hr. 43 mins.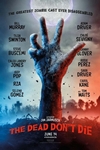 The peaceful town of Centerville is faced with a horde of zombies as the dead begin to come out of their graves.
Official Site
Trailer
---
Men In Black: International
(PG-13)
6/14/2019
Chris Hemsworth, Tessa Thompson
- 1 hr. 55 mins.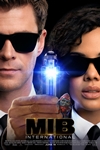 The Men in Black have always protected the Earth from the scum of the universe. In this new adventure, they tackle their biggest, most global threat to date: a mole in the Men in Black organization.
Official Site
Trailer
---
Toy Story 4
(G)
6/21/2019
Tom Hanks, Tim Allen
-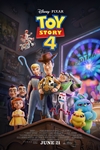 Woody has always been confident about his place in the world and that his priority is taking care of his kid, whether that's Andy or Bonnie. But when Bonnie adds a reluctant new toy called "Forky" to her room, a road trip adventure alongside old and new friends will show Woody how big the world can be for a toy.
Official Site
Trailer
---
The Last Black Man in San Francisco
(R)
6/28/2019
Thora Birch, Finn Wittrock
- 2 hr. 0 mins.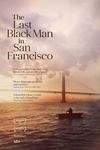 Jimmie Fails dreams of reclaiming the Victorian home his grandfather built in the heart of San Francisco. Joined on his quest by his best friend Mont, Jimmie searches for belonging in a rapidly changing city that seems to have left them behind. As he struggles to reconnect with his family and reconstruct the community he longs for, his hopes blind him to the reality of his situation.
Official Site
Trailer
---
Yesterday
(PG-13)
6/28/2019
Lily James, Himesh Patel
- 1 hr. 52 mins.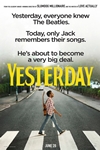 In Yesterday, Himesh Patel is Jack Malik, a struggling singer-songwriter whose dreams of fame are rapidly fading, despite the support and devotion of his childhood best friend, Ellie (Lily James). When Jack wakes up after a freak accident to discover that The Beatles have never existed ... and he finds himself with a very complicated problem, indeed.
Featuring new versions of The Beatles' most beloved hits, Yesterday is written by Richard Curtis (Love Actually) and directed by Academy Award®-winner Danny Boyle (Slumdog Millionaire).
Official Site
Trailer
---
Spider-Man: Far from Home
()
7/2/2019
Tom Holland, Samuel L. Jackson
- 2 hr. 15 mins.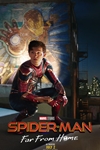 Following the events of Avengers: Endgame, Spider-Man must step up to take on new threats in a world that has changed forever.
Official Site
Trailer
---
Stuber
()
7/12/2019
Kumail Nanjiani, Dave Bautista
-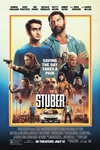 When a mild-mannered Uber driver named Stu (Kumail Nanjiani) picks up a passenger (Dave Bautista) who turns out to be a cop hot on the trail of a brutal killer, he's thrust into a harrowing ordeal where he desperately tries to hold onto his wits, his life and his five-star rating.
Official Site
Trailer
---
The Lion King (2019)
()
7/19/2019
Donald Glover, Beyoncé Knowles-Carter
-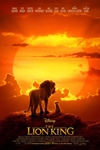 From Disney Live Action, director Jon Favreau's all-new -The Lion King- journeys to the African savanna where a future king is born. Simba idolizes his father, King Mufasa, and takes to heart his own royal destiny. But not everyone in the kingdom celebrates the new cub's arrival. Scar, Mufasa's brother -and former heir to the throne- has plans of his own. The battle for Pride Rock is ravaged with betrayal, tragedy and drama, ultimately resulting in Simba's exile. With help from a curious pair of newfound friends, Simba will have to figure out how to grow up and take back what is rightfully his.
Official Site
Trailer
---
Once Upon a Time In Hollywood
()
7/26/2019
Leonardo DiCaprio, Brad Pitt
-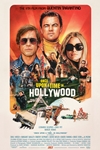 Quentin Tarantino's ninth feature film is a story that takes place in Los Angeles in 1969, at the height of hippy Hollywood. The two lead characters are Rick Dalton (Leonardo DiCaprio), former star of a western TV series, and his longtime stunt double Cliff Booth (Brad Pitt). Both are struggling to make it in a Hollywood they don't recognize anymore. But Rick has a very famous next-door neighbor...Sharon Tate.
Official Site
Trailer
---
Dora and the Lost City of Gold
()
8/2/2019
Isabela Moner, Eugenio Derbez
-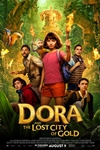 Having spent most of her life exploring the jungle with her parents, nothing could prepare Dora (Isabela Moner) for her most dangerous adventure ever - High School. Always the explorer, Dora quickly finds herself leading Boots (her best friend, a monkey), Diego (Jeffrey Wahlberg), a mysterious jungle inhabitant (Eugenio Derbez), and a rag tag group of teens on a live-action adventure to save her parents (Eva Longoria, Michael Peña) and solve the impossible mystery behind a lost city of gold.
Official Site
Trailer
---
The Angry Birds Movie 2
()
8/14/2019
Jason Sudeikis, Josh Gad
-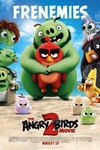 A hilarious all-star cast of new and returning talent are brought together as the flightless birds and scheming green pigs take their beef to the next level.
Official Site
Trailer
---
Good Boys
(R)
8/16/2019
Jacob Tremblay, Keith L. Williams
-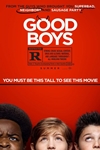 Just how bad can one day get? The creative minds behind Superbad, Pineapple Express and Sausage Party take on sixth grade hard in the outrageous comedy, Good Boys.
After being invited to his first kissing party, 12-year-old Max is panicking because he doesn't know how to kiss. Eager for some pointers, Max and his best friends Thor and Lucas decide to use Max's dad's drone - which Max is forbidden to touch - to spy (they think) on a teenage couple making out next door.
But when things go ridiculously wrong, the drone is destroyed. Desperate to replace it before Max's dad gets home, the boys skip school and set off on an odyssey of epically bad decisions involving some accidentally stolen drugs, frat-house paintball, and running from both the cops and terrifying teenage girls.
Official Site
Trailer
---
Kinky Boots the Musical
()
8/18/2019
- 2 hr. 15 mins.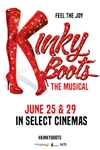 Tony Award winning musical, Kinky Boots, comes to the big screen for the first time ever. Cyndi Lauper and Harvey Fierstein's heartwarming and beloved musical, based upon the Miramax movie written by Geoff Deane & Tim Firth, filmed at the Adelphi Theatre in London - June 25 and 29 only. Based on true events, this huge hearted hit tells the story of two people with nothing in common - or so they think. Charlie, a factory owner, struggling to save his family business and Lola, a fabulous entertainer with an exciting idea, the pair learn to embrace their differences. With a little compassion and a lot of understanding, they create a line of sturdy stilettos unlike any the world has ever seen!
Official Site
Trailer
---
42nd Street - The Musical
()
8/25/2019
- 2 hr. 55 mins.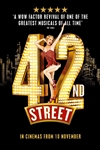 One of Broadway's most classic and beloved tales, 42nd Street, comes to the big screen in the largest ever production of the show. The musical tells the story of Peggy Sawyer, a talented young performer with stars in her eyes who gets her big break on Broadway - May 1 only. Full Synopsis (1,000 characters): One of Broadway's most classic and beloved tales, 42nd Street, comes to the big screen in the largest ever production of the show. The musical tells the story of Peggy Sawyer, a talented young performer with stars in her eyes who gets her big break on Broadway - May 1 only.
Peggy arrives to New York City from her hometown of Allentown, Pennsylvania and her talent catches the eye of legendary Broadway director Julian Marsh. She gets a spot in the chorus of Pretty Lady. Dorothy Brock, the classic Broadway diva and star of the show, takes a dislike to the new girl. When Dorothy is injured, Pretty Lady looks like it will have to close, unless a new girl talented enough to lead the show can be found - someone like Peggy Sawyer!
Official Site
Trailer
---
Abominable
(PG)
9/27/2019
Chloe Bennet, Albert Tsai
-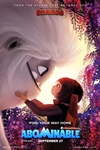 When teenage Yi (Chloe Bennet, Marvel's Agents of S.H.I.E.L.D.) encounters a young Yeti on the roof of her apartment building in Shanghai, she and her mischievous friends, Jin (Tenzing Norgay Trainor) and Peng (Albert Tsai), name him "Everest" and embark on an epic quest to reunite the magical creature with his family at the highest point on Earth.
But the trio of friends will have to stay one-step ahead of Burnish (Eddie Izzard), a wealthy man intent on capturing a Yeti, and zoologist Dr. Zara (Sarah Paulson) to help Everest get home.
Official Site
Trailer
---
Joker
()
10/4/2019
Joaquin Phoenix, Robert De Niro
-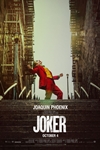 Official Site
Trailer
---
A Beautiful Day In The Neighborhood
()
10/18/2019
Tom Hanks, Matthew Rhys
- Two-time Oscar-winner Tom Hanks portrays Mister Rogers in Untitled Mr. Rogers/ Tom Hanks Project, a timely story of kindness triumphing over cynicism, based on the true story of a real-life friendship between Fred Rogers and journalist Tom Junod. After a jaded magazine writer (Emmy winner Matthew Rhys) is assigned a profile of Fred Rogers, he overcomes his skepticism, learning about empathy, kindness, and decency from America's most beloved neighbor.
Official Site
Trailer
---
Frozen 2
()
11/22/2019
Kristen Bell, Idina Menzel
-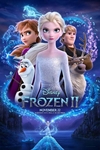 Official Site
Trailer
---
Star Wars: The Rise Of Skywalker
()
12/20/2019
Mark Hamill, Andy Serkis
-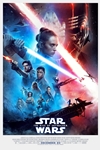 No one's ever really gone... Rey's journey continues and the Skywalker saga concludes in Star Wars
Official Site
Trailer
---